News & Events
Did You Know?
As the late, great Paul Harvey would say, "And now the rest of the story." While preparing for the estate auction on Rudy Ln., Jim (one of our staff) came across a pair of vintage retro Ray-Ban "Shooter" aviator style sunglasses, presumably from the 1960s. The Ray-Ban "Shooter" was originally designed in the late 1930s for the sports enthusiast and outdoorsman. The "Shooter" sunglasses are identified by the famous cigarette holder, a circular device (hole) located in the center of the nose bridge. What's interesting is that they were designed as such to hold the sportsman's cigarette while they took aim or needed the use of both hands. Nowadays the cigarette holder is generally referred to a vanity bullet hole. This iconic brand and style of sunglasses was worn by Robert Wagner and Johnny Depp in the 1998 movie 'Fear and Loathing in Las Vegas.'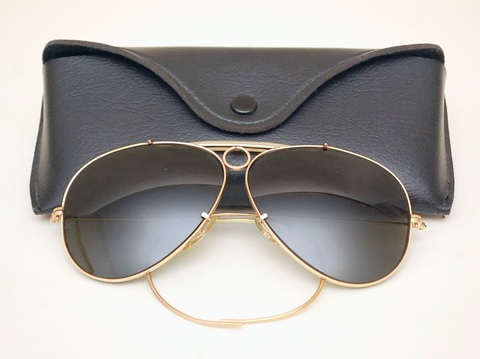 ---
Congratulations Ted!
The Courier-Journal recently ran a feature article on local photographer, Ted Wathen, a friend and past client of Wardlow Auctions Inc. Ted is a professional photographer and partner in Jeffersonville based Quadrant Photography. In 1979 Ted was the principal photographer of President Jimmy Carter's Commission on Coal during which he participated in a photo documentary of the living and working conditions of coal miners.

An exhibition of Ted's photos from this project is being held January 14 through March 17 at the University of Louisville's Ekstrom Library, 2301 S. 3rd St. in Louisville. Ted's a pretty big deal – his work has appeared in the White House, International Museum of Photography, Speed Art Museum, Time-Life photography series, Fortune, Forbes, and Newsweek. Ted is an amazing photographer, please see his work if you can.
---

Caitlin Wardlow receives CES designation
Congratulations to Caitlin Wardlow who earned her CES (Certified Estate Specialist) designation from the National Auctioneers Association in the fall of 2016. Caitlin also recently completed the NAA's Auction Marketing Management designation course and will receive the designation shortly.
---
Jim Porter's Good Time Emporium
After 25 years in business, Louisville's legendary Jim Porter's Good Time Emporium, 2345 Lexington Rd., Louisville, KY, is closing its doors. Due to the sale of the building to MSD, Jim Porter's has decided to close and sell its assets by online auctions to be conducted by Wardlow Auctions Inc. of Louisville, KY. For years Jim Porter's has been a popular entertainment nightclub and dance hall as well as host to many legendary performers such as Waylon Jennings, B.B. King, Johnny Winter, Roseanne Cash, Kansas and thousands of other national and local bands. All items are to be sold including 5 bars, bar equipment, lighting, seating, and a very large collection and display of unusual memorabilia and collectibles that comprise the décor of this 18,000 sq. ft., multi-bar, nightclub. Due to the huge volume and variety of items our plan is to liquidate the items over three online auctions in the next two months. The first phase is expected to be online on or about June 20. There will be a scheduled open house in which the public will be invited to visit the nightclub and inspect all items prior to each auction. A special sign up list has been add at www.wardlowauc.com for anyone wanting to notified by email of the upcoming Jim Porter's auctions
---
First Phoenix Hill Tavern items up for auction
An online auction has been scheduled to dispose of the vast and varied contents of the iconic Phoenix Hill Tavern that is due to be displaced by a major new apartment development. Wardlow Auctions has announced plans for the first of four upcoming auctions of items in the tavern at 644 Baxter Ave. that closed last year.

Owner Ben Rogers abruptly closed both the tavern and also his Jim Porter's Good Time Emporium last June. He sold Jim Porter's on Lexington Road to the Metropolitan Sewer District, and the site has already been cleared. MSD plans to use the property for a construction staging area needed in building a nearby detention basin.

Edwards Companies of Columbus, Ohio, plans to acquire the Phoenix Hill Tavern site and surrounding property to develop about 280 apartments, along with 33,000 square feet of retail space and a parking garage. The tavern and several other buildings are to be razed for the new development.

An initial auction of the Phoenix Hill Tavern's contents will be open for bids online beginning at noon on May 15 through 7 p.m. May 23. An open house at the tavern at which the items can be inspected is scheduled from 1 to 5 p.m. May 22.

Items available in the first round of four planned phases of the auction include items from the saloon and piano parlor, advertising items, collectibles, neon signs, seating, barware and sound equipment, according to the auction company. Details of the three subsequent phases of the auction await disclosure.

Rogers posted on the Internet when he announced the tavern's closure that he started the Phoenix Hill Tavern in 1976, "when I was 21 years old, in one tiny room - on the 2nd floor - of a rundown warehouse... (It) eventually expanded into the entire warehouse and became a sprawling 25,000-square-foot live music showcase."

The Phoenix Hill Tavern was a Louisville institution, with a rich history. For four decades it was a key part of the local live music scene.

WATCH: My Morning Jacket, bands, fans remember Phoenix Hill Tavern

(via Courier-Journal)
---
Kentucky Wildlife Artist Ray Harm Dies
We've been selling his prints for years, but now I'm sad to say that Ray Harm, famed Kentucky wildlife artist, died April 9, 2015 at his home in Sonoita, AZ. He was 88 years old. Known for his intricate wildlife paintings Mr. Harm had been described as Kentucky's "most noted bird artist since John James Audubon". Surprisingly, Mr. Harm never used photos or mechanical devices to create his artwork. He relied on field sketches and knowledge of his subject matter to produce his work. Mr. Harm lived in Bullitt County, KY prior to moving to Arizona. The next time you see one of Mr. Harm's prints, please take a few seconds to pay your respect to Mr. Harm and thank him for his exceptional, artistic talent and contributions to the world of wildlife artistry.
---
Rick Wardlow elected KAA President
Congratulations to Rick Wardlow who was elected President of the Kentucky Auctioneers Association at its 2015 state convention in Bowling Green. Rick was also named one of the top 10 auctioneers in Kentucky for 2014-2015.
---
Joe Gribbins receives CES designation
Congratulations to Joe Gribbins who earned his CES (Certified Estate Specialist) designation from the National Auctioneers Association at its 2014 national convention and show in Louisville. Joe also taught the Kentucky Core Class (pertaining to Kentucky auction laws) at the convention.